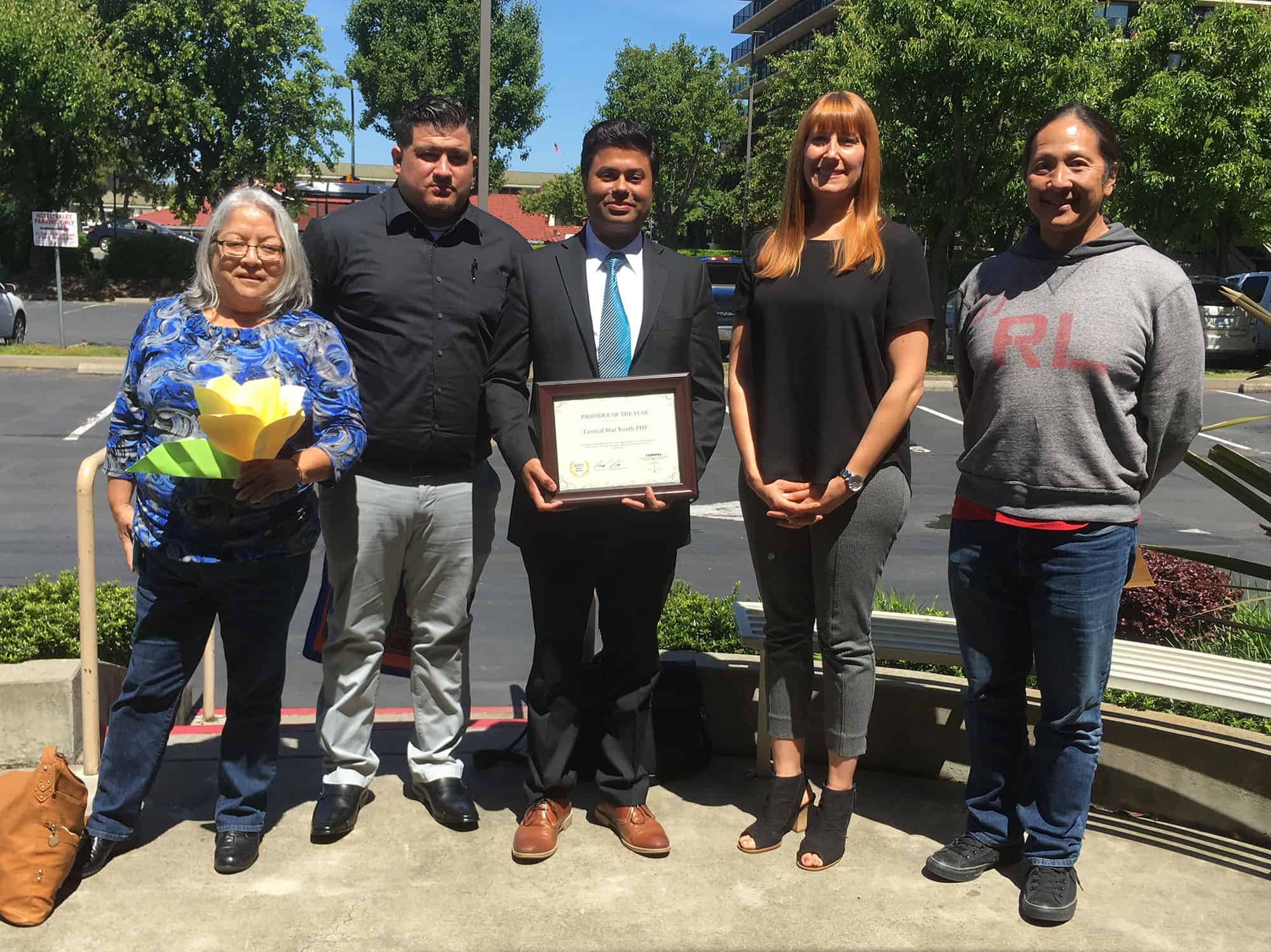 FRESNO, CA – April 2017 — Central Star's Youth Psychiatric Health Facility (PHF) in Fresno received the statewide "Provider of the Year" award recently from the California Association of Mental Health Patients' Rights Advocates (CAMHPRA) at their annual ceremony in Sacramento. This 16-bed facility serves young people ages 12-17 and is a collaboration with Fresno County's Department of Behavioral Health. The Central Star PHF was celebrated when it opened almost exactly two years ago, as it had been 12 years since the Central Valley had had an inpatient facility like this.
The annual award is given to a program or organization that "understands and appreciates the rights of patients and those who practice from a client-centered perspective and go above and beyond to ensure that the clients receive the most appropriate care."
According CAMHPRA Executive Board's award letter, "Since opening their doors to treat psychiatrically ill youth in April 2015, Central Star Youth PHF continues to be supportive of patients' rights and the advocates' efforts in ensuring clients in their facility are being treated with dignity and respect. They continue to exhibit transparency, to be readily available, and to have an open mind." The facility was nominated by the Fresno County Patients' Rights Advocates, Gloria Hernandez, Stan Lum and Pahoua Lee.
Sukhjit Brar, MD, FAPA, a Fresno-based psychiatrist and medical director at the Psychiatric Health Facility, accepted the award. "It was nice to get this award and to be recognized at a state level," he said. "We have a great team at our Fresno facility, and I believe our success lies in working together effectively."
CAMHPRA is a statewide organization dedicated to protecting and advancing the legal rights and treatment interests of individuals with mental health disabilities. The organization is composed of county patients' rights advocates mandated by state law, in addition to attorneys, consumers of mental health services, and other advocacy representatives.
The Youth PHF is operated by Central Star Behavioral Health in partnership with Fresno County Department of Behavioral Health. The Youth PHF is located at 4411 E Kings Canyon Rd., Building #319 in Fresno. More information is at (559) 600-2382 or click here.
# # #
Contact:
Jill Shannon
(949) 330-3316
jshannon@starsinc.com