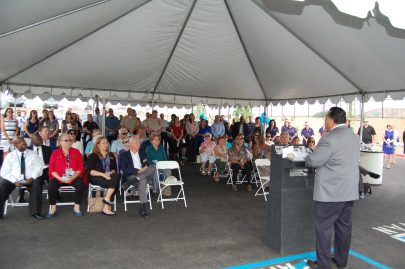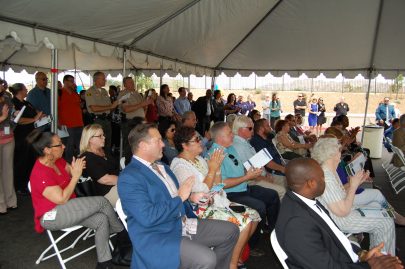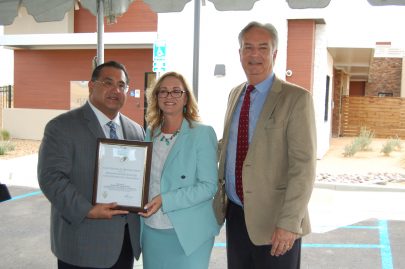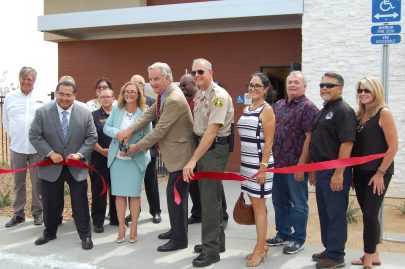 Pictured from left to right: Third District Supervisor James Ramos,
Veronica Kelley, LCSW, Director for the San Bernardino County Department of
Behavioral Health, and Kent Dunlap, President and CEO of Stars Behavioral Health Group.
On Tuesday, July 31, 2018, the Morongo Oasis Crisis Residential Treatment (CRT) Center, had its ribbon cutting ceremony to celebrate the grand opening of the new facility. Dignitaries, San Bernardino County Department of Behavioral Health representatives, local community members and other providers were invited to tour the facility prior to its opening to the public.
Morongo Oasis CRT Center is a short-term, 16-bed residential program located in Joshua Tree in San Bernardino County with a duration of up to 30 days. The program offers recovery-based treatment options, services and interventions in a home-like setting for adults ages 18 to 59.
The CRT provides services 24/7, including assessment, physical and psychological evaluation, mental health and case management services. Programs integrate individual and group counseling, psychiatry, nursing care, and tenants of recovery and community connections.
The CRT is located at 60805 29 Palms Highway in Joshua Tree, CA.