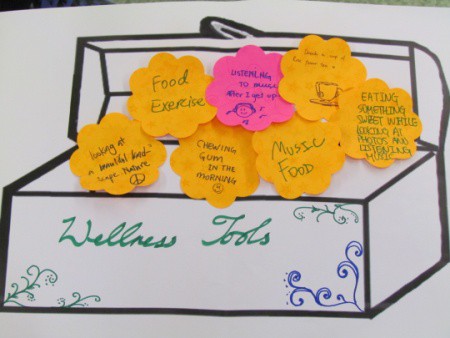 What can we do about feeling cooped up, anxious and stressed, and needing to deal with our own or our family members' personal challenges?
Wellness Recovery Action Plans (WRAP) are a proven, highly effective way for people to think about, plan for and make use of coping tools during challenging times. Now is a really great time to create a WRAP! The process is helpful, meaningful and it can be a lot of fun! It is something you can do on your own, or with your kids, or with other family members. You can use art materials, make drawings, lists on a tablet, or simply write down the coping skills you come up with together on little slips of paper. Then, pull the ideas out of a hat (or a box that your kids decorate) when you or others might benefit from being reminded about coping tools. Personalize the tools as needed, create a variety, and continue to add to your Wellness Toolkit. Ask your assigned staff to walk you through the process. Then you will see how you can comfortably continue on your own!
We have resources, including Wellness Information Sheets available to our staff members—so please tell them what health and wellness topics you'd like to discuss or think about for your WRAP. There are also resources available online here.  You can order WRAP booklets or create your own (e.g., pages in a binder, a personal journal, or a 'toolbox' in which you put your ideas, etc.).
More about WRAP: