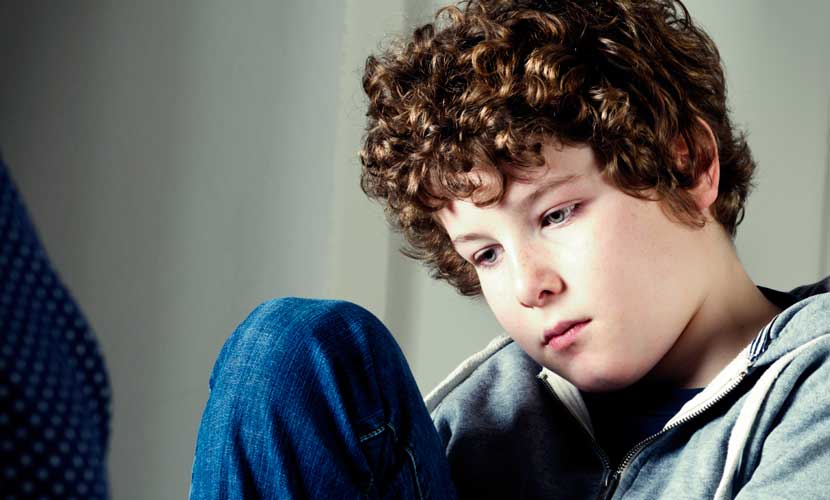 Star View's Evidence-Based & Evidence-Informed Practices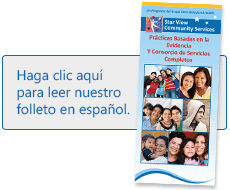 We are committed to providing services of the highest quality that have research to document their effectiveness. Evidence-based practices (EBPs) and evidence-supported practices provide focused, short-term treatment with a verified high degree of results and positive improvement. Star View utilizes approximately a dozen of these practices.
Full Service Partnerships (FSP) for Children — Child FSP provides individual and family counseling services to children, ages 0-15, experiencing significant emotional, psychological, and behavioral problems. FSP employs a team approach to strengthen the family and achieve their goals.
Full Service Partnerships (FSP) for TAY — provides services to Transitional Age Youth (TAY) ages 16-25 who are homeless, at risk of becoming homeless, experiencing their first episode of mental illness or struggling with substance abuse. Counseling, medication support, and linkage to employment/ vocational training are available. Crisis support is available 24/7.
Aggression Replacement Training (ART) — a group service for children ages 10-17 and a structured, psycho-educational intervention primarily for at-risk of aggressive/antisocial behavior. It includes three structured interventions — Skill streaming, Anger Control Training, and Moral Reasoning Training.
Trauma Focused Cognitive Behavioral Therapy (TF-CBT) — a clinic- or home-based psychotherapy model for youth ages 5-17 years. TF-CBT is designed for youth with behavioral or emotional problems related to trauma. Therapists teach coping skills to the parent and child while processing the traumatic event in a safe environment.
Cognitive Behavioral Intervention for Trauma in Schools (CBITS) — a group service for children ages 11-15 that have experienced a traumatic event that is now impacting their daily functioning. CBITS is a 10-week program that assists participants with addressing the emotions and behaviors that are present as a result of witnessing a traumatic event. In this model, parents are encouraged to participate in treatment.
Psychotherapy (CPP) — provides support to parents with children, newborn to 5 years old. This program works with children and families who witnessed domestic violence or experienced abuse. The treatment focuses on restoring safety to the child's world and re-establishing a path to normal development.
Incredible Years (IY) — a psycho-educational group curriculum using videotapes, modeling, role playing, among other techniques. IY is designed for children with a variety of behavior and learning problems.
Structured Psychotherapy for Adolescents Responding to Chronic Stress (SPARCS) — based on three empirically validated interventions that were adapted to address topics relevant to adolescents exposed to chronic trauma. Either a group or individualized intervention, SPARCS is designed for youth ages 13-21.
Functional Family Therapy (FFT) — a home-based intervention that focuses on building family relationships. FFT is designed for youth ages 11-18 years with a history of juvenile justice involvement, violence, substance abuse and/or delinquency. Click for Star View Community Services Referral Form.
Parent-Child Interaction Therapy (PCIT) — focuses on assisting children with behavioral problems. PCIT works with parents and children (ages 2-5) to improve the parent-child relationship and teaches parents effective skills to help manage children's behavioral problems.
Managing and Adapting Practice (MAP) — provides services to youth, ages 5-17 experiencing depression, anxiety, trauma and disruptive disorders. MAP is designed to improve the quality, efficiency, and outcomes of children's mental health services by employing the most current interventions and tools.
Alternatives for Families: A Cognitive-Behavioral Therapy (AF-CBT) — is designed to improve the relationships between children and parents/caregivers in families. It is most suitable for school-aged children (age 5-17) who exhibit some level of behavioral or emotional dysfunction, and for caregivers who may resort to uncomfortable or unsafe levels of physical coercion, harsh punishment or hostile exchanges.
Contact Info
Taji Huang, Ph.D.
Assistant Administrator
Star View Community Services
1303 West Walnut Parkway
Compton, CA 90220
Phone: (310) 868-5379 (310) 868-5379
Fax: (310) 868-5397
E-mail me